Veronika Dzhioeva

-

Opera Arias

Arias from operas by Bellini, Handel, Mozart, Verdi, Puccini, and Cilea. Young Russian soprano, the prizewinner of International Competitions (incl. Maria Callas Grand Prix) performs with EUTERPE Symphony Orchestra conducted by Alim Shakhmametyev.



Track Listing
Veronika Dzhioeva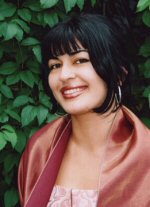 Veronika Dzhioeva - the young lyric-dramatic soprano, who is very popular now in Russia.
Studying at the St. Petersburg State Rimsky-Korsakov Conservatory under Prof. Tamara Novichenko (the teacher of Marina Shaguch and Anna Netrebko as well), Veronika started her career with the Third prize at the Maria Callas International Competition (Athens, 2005).
Russian music critics began to appreciate her after she has got Grand Prix at the VII International Vocal Competition (Kaliningrad, 2006). The magazine Culture awarded her with the title of Debut of The Year for her performing of the role of Fiordiligi in Cosi fan tutte (The Moscow International Music House, 2006).
Three times in this season she sang at the Moscow Conservatory Big Hall, the first concert venue in Russia. Two…
Read More about Veronika Dzhioeva
Location
St. Petersburg - Russia.
Similar Artists
Maria Callas, Joan Sutherland, Anna Netrebko.
Related CDs
Categories