Julie Collings

-

Flotsam

Throughout the album there is always a feeling of being right in the middle of a moment and the arrangement of the songs always reflects this. But to talk about the strength of the songs, the voice and the production isn't enough to describe what I find so satisfying about this record. What Julie has done with Flotsam is to create a record with a real identity and style that is completely of its own and sounds like no one else before her yet remains as instant and as perfect as much of the other music created within the genre of Female Singer Songwriter (nope, I don't like descriptions like that either). With her first long player, I think Julie has made a record every bit as unique and strong as Imogen Heap, Laura Viers , Regina Spektor or any of the modern female solo artists promoted as pushing music forward. Im hoping this record will quietly usher Julie to the front of the crowd, because it really is that good."



Track Listing
Julie Collings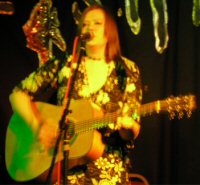 Independant Singer Songwriter from Derby. Julie's main passion lies in song writing, and performing live. Receiving glowing responses at every performance since her first solo gigs back in 2002, Julie pulled together a few of her songs, recorded, produced & released her first Acoustic EP in 2004 - through her own label Perrito Records with each batch selling out!
Julie is fast gaining a diverse and fervent following, including BBC Radio's Janice Long, who recently played Julie's track Simple things on her BBC Radio 2 show. "I think it's lovely". April 2006 she has just also recorded, produced & released her eagerly awaited debut album 'Flotsam' (Perrito Records 2006) to rave reviews!"Poetic, moving, soulful and all recorded in her spare room."
Available through iTunes, amazon, Reveal…
Read More about Julie Collings
Location
Derby - England.
Similar Artists
Ani Difranco, Shawn Colvin, Suzanne Vega, The Sundays.
Music Label
Related CDs
Categories
UPC: 823566045229
MPN:PR0306