Ann-marita CDs
Ann-marita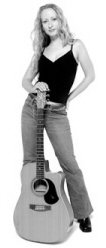 Ann-Marita is all Norwegian, plus a little bit Swedish, American, Australian...! And she brings it all together to create a unique blend of country, blues and rock'n'roll that will get you singin' along before you can say: "She don't sound Norwegian to me!"
Singer/songwriter Ann-Marita was born a country girl in Norway, went on to study singing in Sweden, go to high school in Iowa, travel around northern Europe performing on cruise ships, be awarded "Most Outstanding Vocalist" after 2 years of studies at Musicians Institute, Hollywood, and she now has settled in Melbourne, Australia, where her self-titled debut album has been completed.
Her music is as diverse as her background; a blend of modern country, rootsy rock'n'roll and swampy blues. Ann-Marita is quickly establishing herself as one of the finest up-and-coming singer/songwriters in the world of modern country rock. Her songs are heartfelt and carefully crafted, and her smoky voice becomes a gentle whisper one minute, and a lion's roar the next. This music is refreshing and original, played by some of the very top session players in the U.S. and Australia, and sure to change a lot of people's perception of what country music really can be.
Location
Melbourne, Victoria - Australia.
Similar Artists
Trisha Yearwood, Bonnie Raitt, Wynonna.