Billy Jackson CDs
Billy Jackson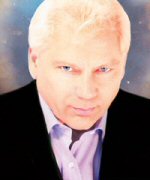 Planet Heaven is a poignant yet entertaining look at the human race. Using constructive angst directed at politics, religion, greed, general apathy and superficiality, it maintains the hope that we will evolve.
Originally from Ireland, Billy Jackson is a singer/songwriter that has performed all over the world both as a solo act and in several "semi-famous" bands. He has over 100 songs published as well as a full-length stage musical which has been performed many times - mostly in the UK. Now residing in Arizona, he is now recording several albums under the Quasar label (part of Solaris). Recent releases include the album "Planet Heaven" and the EP "Blood & Gold" which was commissioned for events commemorating 10 years of freedom in South Africa. (1994-2004)
Location
Phoenix, Arizona - USA.
Similar Artists
Sting, John Lennon, Billy Idol, Elton John. (that's what I'm told!?)