Blue Orange CDs
Blue Orange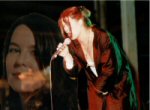 Germany Rocks! Take the best Funk, Rock and New Wave music from the last three decades and join it with powerful vocals and potent lyrics and you have Blue Orange!
Blue Orange originally started as Freiburg´s (Germany) first all-female rock band, playing punk and new wave music to enthusiastic audiences. They supported some famous European punk and rock bands, later returning as headliners themselves. Today the band has evolved by adding keyboards and a groovin' sax to the mix. The main ingredients of the band's newest songs combine the best of funk, rock and new wave from the last three decades along with the hard-hitting vocals of Henrietta Albrecht. Germany Rocks! Guaranteed no MIDI inside!
Location
Freiburg - Germany.
Similar Artists
We love: David Bowie, The Red Hot Chili Peppers, Sting, Talking Heads, P. J. Harvey, Prince, Luther Allison, Frank Zappa, B52, Nina Hagen, Defunkt, Dave Stewart, Roxy Music, Jefferson Airplane, The Rolling Stones, The Police.