Chris Fader CDs
Buy the complete collection on CD for £17.98 + delivery
Chris Fader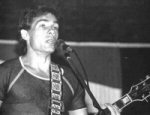 Hard rock, atmospheric ballads and searing lead fills this new CD from Chris Fader.
Chris Fader is a straight guitar based rock act with driving rythmns, searing lead breaks and hard metal guitars mixed with melodic/hard rock vocals.
Underpinned with acoustic guitar.
More excerpts can be heard at website below.
Location
Kings Lynn, Norfolk - England.
Similar Artists
Audioslave, Skunk Ananski, Thin Lizzy.