Crave CDs
Crave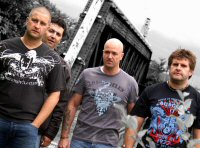 A unique 4 piece melodic rock band based in the North West of England. With the emphasis on strong melodies, big riffs and infectious rhythms, Crave stand out as being serious contenders for success in the very near future.
Crave is:
Steve Argyle - Vocals/Guitar.
Graham Done - Drums.
Paul Henley - Guitar/Vocals.
Derek (Degs) Hughes - Bass/Vocals.
Location
Liverpool - England.