Dave Rolfe CDs
Dave Rolfe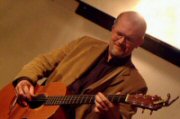 Folk guitar instrumentals from the Irish Harp to the Delta Blues. An eclectic collection of acoustic guitar instrumentals played with attack and vitality. Subtly backing himself on bass, percussion and bouzouki (how does he do that?) Dave has produced an album of great variety. As he explains "it wasn't meant to be an instrumental album, but the first track sounded so good that I did another and then another and so on. The music just poured out of me"
After years playing in folk and rock bands, acoustic guitarist Dave Rolfe has 'gone solo' with his own brand of dazzling playing. Although in the tradition of the 60's generation of British Folk guitarists such as Davey Graham, Bert Jansh, Ralph McTell etc, Dave invests guitar instrumentals with a new freshness and vitality. An eclectic collector of tunes, he plays his way through Ragtime and Blues and even Irish Harp music by Turlough O'Carolan. Dave has been writing and playing music since, as a Boy Scout, he heard Scandinavian Scouts playing Bob Dylan songs around a campfire. From there he progressed through the wilderness of electric rock until he discovered the acoustic blues of Robert johnson, Blind Blake and Gary Davis. This eventually led to him discarding all that electric rock stuff and returning to his true roots - Acoustic Folk and Blues. Now he gigs around the Shropshire Staffordshire border as part of the Folk Duo 'Take Two' and as a solo artist. Live in folk clubs he is as likely to be heard singing a traditional English folksong as playing a Blind Blake Rag, but it is the the acoustic guitar instrumental that is his speciality and the subject of his first solo CD.
Location
Telford, Shropshire - United Kingdom.
Similar Artists
Davey Graham, Bert Jansch, John Martyn, Ralph McTell.