Deborah Sprout CDs
Deborah Sprout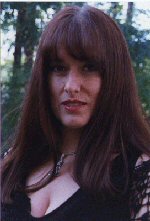 Eclectic mix of rhythmic music, intelligent lyrics, rich, sensual vocals - jazz, r&b, latin, country-blues, rock, with a celtic twist.
Deborah studied Music Theory and Classical Voice under the guidance of Dr. David Dilks and Eileen Argenbright, with advanced training under Betty Phillips in Bryn Mawr, Pennsylvania.
Throughout her career, she has sung in various choral groups including The Good News Singers gospel quartet; South Jersey Chorus; Haddonfield Oratorio; and the University of Delaware Choral Union as well as performing solo (classical to folk) for weddings and in churches.
Deborah's work has been described as "deep", "soulful", "sensual", "rich", "intelligent", "beautiful", and "clever" and involves a unique blending of Jazz, R&B, Folk, Country, Celtic, Gypsy, Classical, and Rock-Pop styles to create a deliciously diverse treat for almost any palate.
© 2001 Fledgling Records & Publishing (837101199339)
Location
Shifnal, Shropshire - England.
Similar Artists
Sade, Sting, Eva Cassidy.