Dominators CDs
Dominators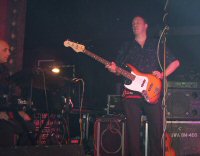 Martin Davies from Colin Paul and the Persuaders (Britains hardest working 50's rock n roll/jive band) and friends with a 15 track Rockin', bluesy good time studio project that will thrill fans of driving guitars, boogie woogie piano and classic songwriting. Instant songs that you will be hooked on from first hearing and revisit time and time again for years to come. Rock n roll made simple, at its best and sweeping you up in all its glory from the first listen!
Location
Manchester - England.
Similar Artists
Dave Edmunds, Travelling Wilburys, Beatles.