Elly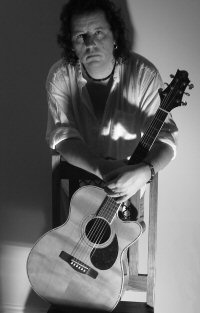 'Adnan's Sea' fuses acoustic, folk, world music, Spanish, jazz and ambient styles to create lush melodic soundscapes. The album forms a musical journey around the sights and sounds of the Turkish Aegean coast and will appeal to everyone from fans of Cafe Del Mar ambient chillout to rockers and appreciators of virtuoso guitar alike.
Acclaimed London guitarist Elly (a.k.a Mark Etherington) first came to prominence as a member of legendary British band D.A.M. and later as guitarist-in-residence at East London's Queen' Theatre.
A professional musician for 20 years, his virtuoso solo acoustic work spans jazz, folk and world music styles, resonating with influences from Gordon Giltrap and Martin Taylor to melodic and ambient chillout.
Location
London - England.
Similar Artists
Gordon Giltrap, Antonio Forcione, Dave Gilmour, Cafe Del Mar, Buddha Bar, Martin Taylor, Joe Pass.