Emith CDs
Emith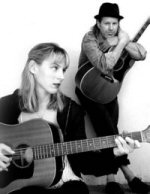 "Rootsy, mysterioso and darkly atmospheric" - Limited-release EP from award-winning LA-based goth-folk-pop-hipster duo featuring Stevie Gurr, lead guitar/harmonica for Elvin Bishop and singer/songwriter Carol H. Fleetwood Mac meets acoustic Led Zeppelin, Aimee Mann, Emmylou Harris, and BB King all in one kind of edgy sandwich.
emith - award-winning cafe-pop featuring Stevie Gurr (guitar/harmonica for Elvin Bishop)
Founded in 2003 at a crossroads between Los Angeles and the infamous Inland Empire, emith ("the good life") is an original band of the old and new, of humor and sadness, of the pristine and the profane. The band plays both as an acoustic duo, featuring new songwriter Carol Ann Ives on vocals and guitar, and highly respected guitarist Stevie Gurr (Dr. John, Elvin Bishop, and others) on guitar, bass and harmonica, and also as a full band supplemented by various local favorites on bass and drums.
emith's style of music features melodic, haunting influences from rock, folk, country, blues, and Celtic genres. One of the members of Peter Paul and Mary, apparently so overcome with a powerful inspiration in writing one of his songs, once started a foundation for songs that are inspired by spirits "calling from a distant place." This is the kind of music emith features, ethereal but rootsy, lyrically compelling but catchy, and full of humor, passion and a wry sex appeal. The band brings a modern energy to melodies that sound as if they were written centuries ago. Accessible by both youthful and mature audiences, emith is a fresh new arrival producing compelling songs and an in-the-flesh impression that is hard to forget.
Described with influences as wide-ranging as Fleetwood Mac meets acoustic Led Zeppelin, Aimee Mann, Emmylou Harris, and BB King all in one kind of edgy sandwich, the act has received airplay on a nationally syndicated traditional radio show, has an EP in limited release and is working on their first full-length. Bassist Sheldon Gomberg is producing (Five For Fighting, Beck, Eleni Mandell), and contributing players include drummer Kendall Kay (Kenny Burrell, John Faddis, Phil Upchurch, Rickie Lee Jones), piano/keyboardist/organist Jeff Young (Jackson Browne, Sting, Shawn Colvin), percussionist Danny Frankel (Laurie Anderson, Beck, Jewel, Don Cherry), and Mark Goldenberg (Jackson Browne, Julia Fordham).
emith has recently returned from a short tour of Utah and is currently playing throughout Borders stores in Southern California. The act has previously toured to New York and as far away as Ireland. They won a Garageband award in 2004, were nominated for Enchantress Radio's "Artist of the Year", and were featured in last year's Inisheer International Songwriters' Retreat and co-wrote several songs with overseas artists, including one Swedish Grammy winner. For more information, please see www.emith.com or www.myspace.com/emith
Location
Los Angeles, CA - USA.
Similar Artists
Fleetwood Mac, Aimee Mann, Emmylou Harris, Sheryl Crow, BB King, Fairport Convention, Jackson Browne, Sandy Denny, Enya, Peter Paul & Mary, Crosby Stills Nash (& Young).