Floron CDs
Floron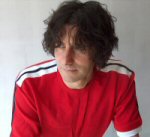 In a world where the charts are dominated by cover versions, at last, here is something that makes you feel good about the future of British songwriting. Powerful, passionate and wryly perceptive.
Floron is a legend in Haslemere.
His songs address love, life, lust and the dreams and fears we all have. A talented singer and songwriter he truly believes in achieving something meaningful.
He also likes apple crumble and custard!
Pacy, upbeat melodies; dark, thoughtful ballads ... it has taken Floron nearly three years to create his CD Thunderstruck and the craftsmanship shines through. Every one of the album's twelve tracks resonates with life and soul, and Floron's yearning, Lennon-like voice echoes with the likes of Travis, Blur, David Gray and Badly Drawn Boy.
A true labour of love, right down to the lavish inlay design.
"This guy is excellent! A highly creative talent, catchy lyrics and memorable songs."
(Tim Rainey, Crete - Greece)
"Every bit as imaginative as it is passionate, Floron seemlessly blends contemporary production values with the familiarity of tracks from yesteryear. With meaty hooks and inspired melodies, his tunes keep begging to be played."
(Chris Cronin, Melbourne - Australia)
"Yearning, melodic and unforgettable - I love this album!"
(Stella Gurney, Birmingham - United Kingdom)
"In songs that are at times deeply touching , at others wryly perceptive and always accessible, he takes you behind the scenes of love to the heart and soul of real life, real emotions."
(Alan Durant, London - United Kingdom)
Location
Haslemere, Surrey - England.
Similar Artists
Travis, David Gray, Blur, Badly Drawn Boy, Coldplay, John Lennon.