G.L.O CDs
G.L.O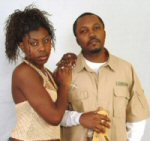 The Shine is a timeless album which sounds very up to date, whilst being heavily influenced by 80s Funk and Soul with emphasis on bass and guitars. With strong grooves and smooth vocals, it is also lyrically a welcome departure from the usual R&B lyrics which every song delivering a message.
G.L.O was formed after Meshack and Sharnell Murray met in the same office building where they both worked. Sharnell was doing a summer job at the time when a colleague of Meshack's heard her singing in the corridor. He told Meshack about her, they set up a lunchtime audition in a meeting room and Meshack was immediately blown away. GLO was formed shortly thereafter and the rest is history.
Sharnell is originally from Wolverhampton and now living in London, where she is working and studyings. Her influences range from R&B and Hip-Hop to Reggae & Lovers Rock. She draws inspiration from artistes such as Mary J Blige, Lauryn Hill and Brandy.
Meshack is a self-taught multi-instrumentalist, songwriter and producer who plays guitar, keyboards, bass guitar and drums. He started out playing in the college band Smash before playing in various bands in genres ranging from Top 40 covers to Rock and Jazz-Funk. His influences are diverse and range from Parliament/Funkadelic, The Gap Band, Slave, and Cameo to Bob Marley and Fela Kuti. He has done session work for various artistes on both sides of the Atlantic.
Location
London - United Kingdom.
Similar Artists
Roy Ayers, Lo Key, Cameo, Faith Evans, Earth Wind & Fire.