Jennifer Johnson CDs
Jennifer Johnson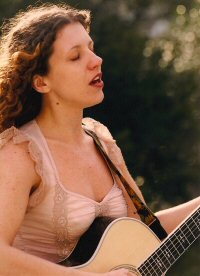 My Secret Garden is a relaxing Celtic music CD of traditional, contemporary and original songs by Celtic singer Jennifer Johnson, inspired by Mary Black.
Her soaring vocals silence pubs and find a home in timeless classics of Celtic origin and beyond.
Born in New York, NY, she studied singing in New York City and Los Angeles, but it was travels to Ireland that opened the door to a world of timeless music for the young artist and then the discovery of a traditional Irish music session that inspired the singer/musician to rent a violin and study with Patrick Ourceau, Athena Tergis and Brian Conway and to travel to Cape Breton Island and study its rich music and dance culture.
Jennifer's background also includes Irish step-dance, ballet, the Martha Graham School of Contemporary Dance, Sivananda Yoga Ashram teacher training and the Swedish Institute of Massage Therapy.
Jennifer works with various musicians in the NYC/Philadelphia area and loves to go to Irish sessions.
"My Secret Garden" is a relaxing Celtic music CD comprised of contemporary traditional and original songs and features musicians Natalie Haas, Eamon O'Leary, Jerry O'Sullivan and Ben Wisch.
Similar Artists
Mary Black, Moya Brennan, Eva Cassidy.