Jeton CDs
Jeton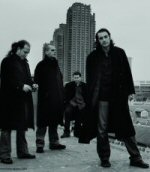 Crazy Leader is a surprise journey to the human condition. Anger, joy and dread are all expressed with relentless power in lyrics, driven by guitars and big beats. It is a sign of the time.
JETON has formed in May 2004 in London. The multinational quartet describe themselves as a new rock band with, needless to say, their own particular musical heroes. The band equation happened when Jeton Kulinxha (Vocal) and Andrea Samengo (Guitar) decided to record a few songs that were resting on the shelf. A couple of months later and a few recorded songs, it was obvious the feel was there for a full band. James Segrue (Bass) recruited himself by buying a bass and jumping aboard, while Faton Prokupla (Drums) 'happened' at the same bar at the same time as Kulinxha.
In between many gigs and growing number of fans JETON managed to record their first studio album. 'Crazy Leader' is a debut that gives plenty of variety and choice, whether you are in the mood for driving, dancing, 'air guitaring', romance, critique or ridicule. All is there.
Location
Hendon, London - United Kingdom.