José León CDs
José León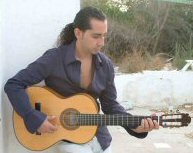 Latin music with nuances of Soul, Brazilian and Cuban rhythms. Lush harmonies, punchy piano, mesmerising percussion and danceable bass lines. José sings in Spanish with a magical voice that touches your soul, his genuine skills as an inspired guitarist, writer and producer make this an album to fall in love with.
Singer, songwriter and guitarist José León was born to a Spanish father and Indian mother. Family life was bi-lingual and multi-cultural. Raised in London his influences are not only the Flamenco and Indian music of his roots but also Soul, R&B, Middle-Eastern and Latin sounds.
His music reflects these flavours, singing in Spanish he expresses his diversity with warmth, passion and soul.
Writing from the heart he interweaves irresistible rhythms with lyrics that can be joyful, tender or magically surreal. The depth of feeling in his voice and playing give meaning to his songs beyond language.
His music has been used in the U.S cop drama THE SHIELD and broadcast by the BBC in Latin America.
Previously he has performed in Spain, Dubai, France, Germany, Antigua, Croatia and the UK. Having spent some time fronting a 7-piece Latin band he now focuses on developing his solo material.
Location
Brighton, East Sussex - United Kingdom.
Similar Artists
Santana, Buena Vista Social Club, José Feliciano, Willie Colón.