Julie Collings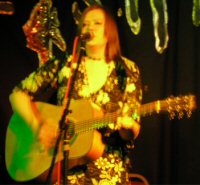 Independant Singer Songwriter from Derby. Julie's main passion lies in song writing, and performing live. Receiving glowing responses at every performance since her first solo gigs back in 2002, Julie pulled together a few of her songs, recorded, produced & released her first Acoustic EP in 2004 - through her own label Perrito Records with each batch selling out!
Julie is fast gaining a diverse and fervent following, including BBC Radio's Janice Long, who recently played Julie's track Simple things on her BBC Radio 2 show. "I think it's lovely". April 2006 she has just also recorded, produced & released her eagerly awaited debut album 'Flotsam' (Perrito Records 2006) to rave reviews!"Poetic, moving, soulful and all recorded in her spare room."
Available through iTunes, amazon, Reveal Records in Derby, or Folkdevils in Whitby and also to buy from:http://www.juliecollings.co.uk (Where you can also find more information, CDs, MP3's gig listings & messageboard)
Location
Derby - England.
Similar Artists
Ani Difranco, Shawn Colvin, Suzanne Vega, The Sundays.