Kevin Davies CDs
Kevin Davies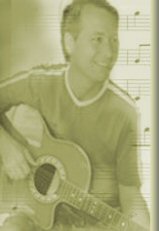 15 instrumental classical and ambient tracks with beautiful and very relaxing melodies. Kevin Davies displays his diverse range of music writing on this, his first album release.
Kevin was born near Bristol in 1962. He was taught Classical Piano for 14 years from the age of 7 and took up the guitar at age 13. After playing with various punk bands in the late seventies and, he joined Bristol based Indie rock band 'Prozac Baby'. The band supported Tom Robinson on tour and played at The Ashton Court Festival on several occasions. Kevin wrote and co-wrote many of their songs and took the decision to start write professionally in 2002.
Despite writing many ballads and pop songs his break came when he was asked to write music for some TV and Radio adverts, he discovered that his talents were more geared to writing music to pictures and has now written music for adverts such as Lastminute.com, SMA Baby milk, Haven Holidays and MacDonalds etc.
He writes mainly Classical and Ambient style music and places a strong emphasis on the melody.
Location
Bristol - United Kingdom.
Similar Artists
Ludovico Einaudi, Philip Glass, Mike Oldfield.