Kurt Patrick Geier CDs
Kurt Patrick Geier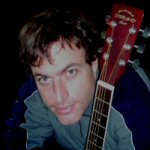 Raintracks features 16 songs that are mostly slow, melodious and melancholic. With music inspired by irish folk and american bluegrass and lyrics that are mostly introverted and sometimes cryptic, the songs on raintracks are for those who like a rainy day, a cup of coffee, chocolate, bottled beer, lots of free time, the north, the sea - and preferably some, most or all of those combined.
Kurt is an amateur musician of part scottish and part bavarian origin. He was born in 1972, in New York USA, but has lived in Germany for most of his life. Besides his solo work, Kurt is also guitarist and co-vocalist in the German band Renz bei Rechner.
Kurt is currently living in Germany, in the university town of Tuebingen. He has studied philosophy, sociology and political science, but is not at all sure as to what purpose.
Location
Tuebingen - Germany.
Similar Artists
Leonard Cohen, Bruce Springsteen, Tom Waits, Suzanne Vega, Don McLean.