Liquid Blue CDs
Liquid Blue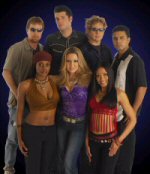 An exotic blend of western pop melodies with ancient & modern eastern sounds. Lyrically, the band challenges the listener with thought provoking commentary on many crucial issues confronting the world.
Liquid Blue is one of America's hottest up & coming live & recording acts. The band was recently named Best Dance Band in the U.S.A. and has won numerous other awards including Best Rock Band in Reader Magazine. Entertainer Magazine called Liquid Blue "The Hottest, Hippest Band in North America".
Based in San Diego, California, Liquid Blue is an international sensation, performing concerts at theaters, arenas and stadiums worldwide. Recently the band performed at stadium shows in Asia with up to 65,000 fans in attendance. One of the concerts was televised in China to an estimated audience of 700 million! To date, Liquid Blue has performed in over 60 countries on all 6 continents! The band's debut CD was produced by David DeVore, who has produced many multi-platinum albums. "Supernova" was mixed & engineered by two-time Grammy winner Joe Chiccarelli and was recorded at the legendary Western Recorders in Hollywood.
Location
San Diego, CA - USA.