Michael Moon CDs
Michael Moon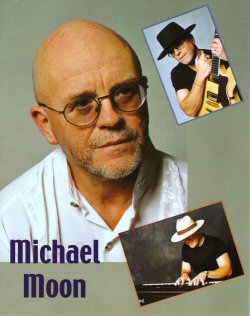 Content takes in most musical genres e.g. soul, country, pop, cajun/celtic, localised (in my case, liverpool) humour (check out tracks 11 and 13) and a lot of the lyrical content is drawn from my life-and-times in liverpool, and on-the-road experiences..................
I've been a working musician now since the late fifties right up to present day, playing guitar, sax, keyboards, and vocals.
I have worked in just about every situation known to man, i.e. bandwork, solo, duo, and pianobar abroad (Spain, Germany, Belgium, Holland, etc.), also writing for most of this time.
I have two albums out at present, and a third is still a work in process! I am from liverpool (and yes, I HAVE worked with the Beatles!)
I'm not sure who I may sound like but my influences are cajun/celtic, anything with the words rock OR roll in it, country, and just about anything that comes out of new orleans!
The opening at the top of this biog will tell you that i am no spring chicken, but hey, still out there and still workin'!
Location
Saint Helens, Merseyside - England.