Nicky Taylor CDs
Nicky Taylor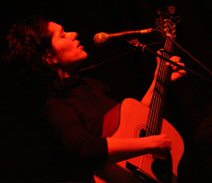 A selection of songs with story line which give them a folky edge. Delicate vocals with powerful emotional content. Beautiful musicianship.
Following Nicky,s first Album, Rivers,written with her then partner David Nettleton, comes Absolution, the Cathartic journey of survival and transformation in the face of adversity, a ten-track collection of songs that formed after Davids untimely death.
Though there are strong themes of damage and loss and indeed the quest for absolution, Gary Brady's mature production of Nickys songs, weave both content and musicality together with sensitivity and integrity. He creates a sublte blend of textures and pays homage to the difficult events that the album is about.
Nicky has worked with various writers in the past including KV5 [chuch candles- remixed by Nitin Swaney] Robert Miles and Badmarsh and Shri.
Nicky is currently gigging acoustically around London.She has Publishing interest and is getting National airplay in Spain.
Location
London - England.
Similar Artists
Sandy Denny, Joni Mitchell.