P.O.M. (Peace Of Mind) CDs
P.O.M. (Peace Of Mind)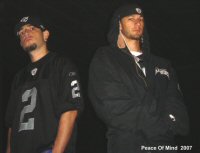 The long awaited first release by two of Hip Hop's most loyal servants. Take a step into a world of beats and rhymes that many have forgotten. Peace Of Mind bring you Hip Hop in its purist form... Mindless.
Peace of Mind are a British duo that pride themselves on creating innovative, listenable, genre crossing Hip Hop.
The bands members, Two Face and SFX, first met as kids growing up in North London in the early eighties. Both were instantly captivated by the culture of Hip Hop and quickly found a home in its music and people. From humble beginnings (a stereo system with a single deck and a pair of headphones plugged into the microphone socket), Peace Of Mind have gone on to work in thier own studio, collaborating with countless MC's, DJ's, producers and musicians, in numerous musical genres.
"Peace of Mind's musical goal is to stay true to traditional Hip Hop principles, by breaking the rules", states SFX, the bands DJ, engineer and producer. "We have no magic formula, each track is different to the last and that&'s because we take our musical influences from so many different places.
We are Hip Hop, but we're Hip Hop with a twist". Evidence of the bands musical diversity can be found as the duo elect to keep with the Hip Hop tradition of using samples, re-working elements of songs as broad scoping as Amy Winehouse and Kasabian ('Back To Black' and 'Processed Beats' respectively).The influence of old and new is made only too clear as pair blend The White Stripes and Eurythmics, with classic Ike and Tina Turner, for the club favorite 'Let's Go'. Two Face and SFX do, however, show thier ability to create without the use of samples on tracks such as 'What Ya Gone Do?' and 'Play Time'. Peace Of Mind's method of adding a unique feel to each track has made them favourites of rock, funk, pop, soul, and general party goers world wide.
"As artists we stay true to the principles of Hip Hop. We are in this industry primarily for the music and our love of it, not the cars, jewellery and women that so many in this game use as their only source of inspiration. We try to cross the boundries of musical genre by making songs that have theme's gleaned from personal experiences. By doing this we find that more people can associate with what we're saying" quotes Two Face, Peace Of Mind's lyrical force and co- producer.
"Take a listen, and see what you think, cos this isn't rap... this is Hip Hop!"... Two Face and SFX aka Peace Of Mind.
Location
London - England.