Penny Red CDs
Penny Red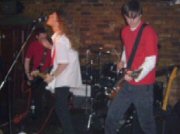 Penny Red's first studio recording - a mini-album of 7 wonderful tracks. From the aggressive punk of 'Dead Beat' through the pop wonders of 'Say You Will' to the chilled out expansiveness of 'End Song' this record will find its way into your heart.
Penny Red are a four piece from the Suffolk / Essex border regions of the UK who make aggressive rock somewhere between The Wildhearts, Nirvana, early Manic Street Preachers and The Cult.
Penny Red have been around since 2003, gigging around East-Anglia and getting a reputation for their raucous, slightly unhinged, live show.
Location
Ipswich, Suffolk - England.
Similar Artists
Nirvana, Manic Street Preachers, Foo Fighters, The Cult.