Plastik Lies CDs
Plastik Lies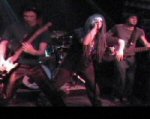 Unsuperficial Madness is a combination of hard driven guitars and powerful vocals blending with grace in true Ozzy Osbourne style.
Montreal's Plastik Lies is a new SuperSolid Rock band founded by four passionate musicians. Their original hypnotizing sound and a unique approach of melodies brings a breath of fresh air.
Plastik Lies was born at the end of year 2001. Founded by three members issued from the Montreal musical scene; Matthieu Toupin brillantly attacking the drums, Martin Lamontagne mistreating his bass, S.Mackay rushing his guitar 'till the Marshall explodes and M.Pronn devouring his microphone while tearing his vocal chords out.
Pronn draws his inspiration in a world where the extreme and the inaccessible reigns. All songs reflect a life style so marginal while staying connected. At 10 years old, Pronn founds his dad's guitar hidden in the closet and from now then discovered his vocation. At only 15, Pronn was one of the founder members of Haze and Shuffle. Three years after, they signed a big record deal with Arista Records. Six years passed by and willing to go further in his inspiration, he formed Triple Beam and put all his soul in writing an album that would be intitled Dead Man In A Band. That album brings a solid foundation for the band that would become Plastik Lies.
Plastik Lies is an entity of a new generation that defies the synchronized life.
Location
Ste Adele, Quebec - Canada.
Similar Artists
Ozzy Osborne, Black Sabbath, Haze and Shuffle.