The Portraits CDs
The Portraits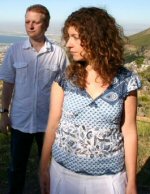 The Portraits are a song writing duo from the British Isles who released their first CD album, Kin, on 6th November 2006. Jeremy and Lorraine Millington have been playing and writing music in union since 1995, and formed The Portraits in 2005.
They have been described by one notable French radio producer as "The New Beautiful South".
The first album under the "The Portraits" pseudonym is the result of two years work and a number of life changing experiences.
Recorded largely at their own studio in France, it nonetheless retains a uniquely British Isles slant in its at times humorous portrayal of bereavement.
Keen to promote the "Music is Invisible" mantra which begins the album, they choose to remain visually elusive, preferring their listeners instead to identify with the content and cultural and age references of their lyrics and melodies.
"We couldn't have created this album any sooner" says singer and writer Jeremy. "This is music for people who've seen and felt life a little."
Location
Wadebridge - England.
Similar Artists
Beautiful South, Ben Folds, Brian Wilson, Damon Albarn, Blur, Cat Stevens, Moody Blues, Carpenters, Death Cab For Cutie, Genesis, Belle And Sebastian, Beatles, ABC, Jellyfish, The New Pornographers, Paul McCartney, Divine Comedy, Kings Of Convenience, Morrissey, Mamas and Papas, Magic Numbers, Manhattan Transfer, Everything But The Girl, Enya, Clannad, Dido, A-ha, America, Paul Simon, Tori Amos, Joni Mitchell