Starseed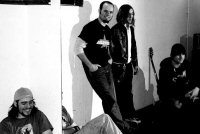 "All The Things They Can't Take Away..." - DEBUT ALBUM OUT NOW
Starseed - One of South Africa's most promising Rock Acts, now based in London. One of the best vocal talents to rise from SA Shores, mixed with solid driving hard rock songs oozing melody and passion. Originally from Edenvale in Johannesburg, South Africa, Starseed have progressed from a small SA band to playing some of South Africa's most prestigious stages and festivals and now living in London playing some the UK's best known venues.
Starseed - ONE SOUTH AFRICA'S MOST EXCITING EXPORTS!
Location
Richmond, Surrey - England.
Similar Artists
Chevelle, Bush, Our Lady Peace, Live, Pearl Jam.