The Vending Machine Heart CDs
The Vending Machine Heart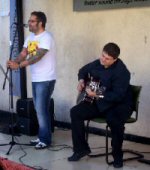 The Vending Machine Heart is Jason Applin and Stuart Wills.
They formed the Vending Machine Heart and started writing acoustic based songs after finding that they had a common admiration for many of the same songwriters - in particular Elliot Smith.
The Vending Machine Heart's music has been described as two parts Elliot Smith to one part Simon and Garfunkel.
Location
Exeter, Devon - England.
Similar Artists
Alexi Murdoch, Damien Rice, Denison Witmer, Elliot Smith, Fionn Regan, Iron & Wine, John Martyn, Joni Mitchell, José Gonzàlez, Josh Ritter, Josh Rouse, Kathryn Williams, Kings of Convenience, Nick Drake, Rocky Votolato, Rosie Thomas, Sufjan Stevens.