Vision Diva CDs
Vision Diva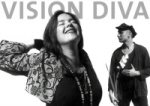 "Tokio, Paris, New York" is the result of an extensive search for new and exciting forms of musical expression in connection with issues and ideas important to the band. And that is why Vision Diva is only available in German. The band all loves the English language but with lyrics that are profound and convey important content and insight, it is better to use your own mother tongue.
Vision Diva is a new band from Germany, now experiencing their first successes, and winning over many new fans with their outstanding vision in just a short space of time. For more than a year they took the time to connect the grooves and beats of TripHop, Electro and Drum & Bass with live music and strong lyrics. The new reality of virtual worlds and sounds; the search for truth, dreams and visions. We all are on a quest to invent, decide and define ourselves daily. Let's define our own goals! Let's change the present and the future with our own dreams and vision. And let's charm the light out for all those who walk their dark paths. Let's take a stand! Are you ready?
Location
Freiburg - Germany.
Similar Artists
We all love: Kosheen, Björk, Portishead, Morcheeba, Faithless, Dido, Massive Attack, Patricia Kaas, Benjamin Biolay, Keren Ann, Sting, David Bowie, Nina Hagen, Grönemeyer, Youssou N`Dour, Albert Einstein, Mozart, Doris Day.