Caliko

-

Pictures

The Debut studio album from Caliko. "Talented musicians with some superb songs, see them while they're still playing small venues." - Daily Mirror. "It's a corker, brimming with vibrancy" - Tiscali.co.uk Album of the Month - Reading-Festival.org.uk



Track Listing
Caliko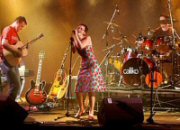 "Talented musicians with some superb songs, see them while they're still playing small venues." - Daily Mirror.
"It's a corker, brimming with vibrancy" - Tiscali.co.uk
Album of the Month - Reading-Festival.org.uk
Caliko have been making music together for around three years. Mostly scattered across this area, they are one part stolen vocalist (Jo Giles), two parts old school friends (Russell Barrow and Sam Firth) and two parts lonely musicians from the classified pages (Dan Hill and Jon Winter).
In that time, Caliko have continued to develop their acoustic-based sound. Emphasis is on strong songwriting, which lends the music an accomplished, well-crafted feel. Imagine a singer/songwriter in a full band setting ...
Caliko would take it as a compliment if you could hear any of…
Location
Westerham, Kent - England.
Music Label
Related CDs
Categories
MPN:SFMCD001