Rawcuz Crowzz

-

Corvus Dayz & Rawcuz Nitez

Twelve more originals from Blues Punksters Rawcuz Crowzz with sprinkling of folk/rock.



Track Listing
Rawcuz Crowzz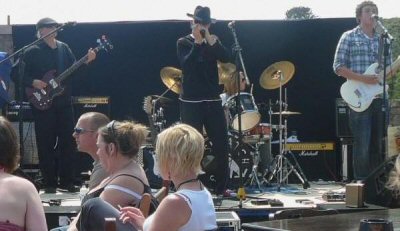 12 original tracks from Rawcuz Crowzz - Hard Nu Blues/RnB, atmospheric Rock and more traditional Blues but all with a hard twist on debut Album from Alderney's power trio.
3 piece Rawcuz Crowzz formed in Nov 07 & play only original material.
On the Crowzz second album Neil Adsett the travelling Aussie bass player has returned and features on nine of the tracks on "Corvus Dayz & Rawcuz Nitez".
Written, performed, recorded mixed & produced by Rawcuz Crowzz.
Line up:
Derrick Williams - Vocals, Gob Irons, Slide Guitar
Rob Hunter - Vocals & Guitars
Helen Williams - Drums & Percussion
Neil Adsett - Bass
Rawcuz Crowzz, although heavily influenced by the blues aren't a true/pure blues band, like to be thought of new blues - taking blues in another direction and shaking it right up…
Location
St Anne, Alderney, Bailiwick of Guernsey - Channel
Similar Artists
Black Keys, White Stripes, Dr Feelgood, The Kills.
Related CDs
Categories
MPN:CD05