T.Mac.

-

Steel Town

A thoughtful album with tracks from the lucid and vivid imagination of the artist, and others from actual events. Touching on delicate subjects in "Under a Waco sky" & "Lusitania"and back to his homeland roots in "Dancer of the sands". Another must have CD in your collection!!



Track Listing
T.Mac.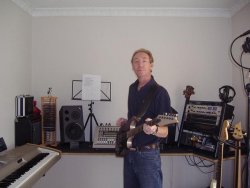 A fantastic selection of tracks from T.Mac's previous five albums. From the rocking "Mourning, Noon and Night" to the beautiful "Florida Keys". A total of 14 Tracks!! Enjoy!!
"I have been in bands for a long time, but decided to quit doing live work to concentrate on my own material.
I hope you enjoy listening to it as much as I enjoyed recording it".
All tracks are written and produced by T.Mac.
Location
South Shields, Tyne & Wear - England.
Music Label
Related CDs
Categories