Base District CDs
Base District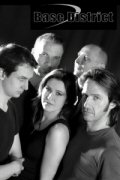 A 13 song collection of sublime, soulful hooks, pure-pop melodies, strong ballads and occasional excursions to acid jazz influenced piano licks. Warning: If you hear it once, you might be addicted for life!
The Freiburg (Germany) - based Band blends an eclectic sound of pop, rock and funk with powerful lyrics, and the warm voice of lead-singer Mariella Puglisi. Base District is: Mariella Puglisi - vocals, Uwe Ruthard - guitars, Tommi Nüblin - bass, vocals, Werner Sänger - drums, vocals, Thomas Förster - keyboards.
Location
Freiburg - Germany.
Similar Artists
Brand New Heavies, Incognito, Sting.