Breathe CDs
Breathe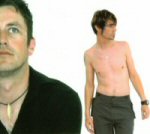 A blend of eclectic acoustic rock from Norwich in the same vein as Turin Brakes and Radiohead.
Breathe is an ongoing project which has been recording and performing throughout the South East of England for the past three years.
Consisting of Jeremiah Williamson and Jon Marett , the concept behind Breathe is to bring the music they record to a wider audience and indeed offer them an alternative to the throw away pop engulfing the UK.
Songs To Live And Die For has been recorded during the first three months of 2003 but was conceived in late 2002 when Gate Records approached Breathe with a view to a release of the material they had been receiving throughout that year.
The philosophy of Breathe was and is to continually move forward, not writing for every whim that any record company executive may or may not have and never any agenda other than the ones they set themselves, pausing only to record the material they feel necessary.
Location
Norwich, Norfolk - England.
Similar Artists
Neil Young, Turin Brakes, Radiohead.