Chunky Planet CDs
Buy the complete collection on CD for £5.99 + delivery
Chunky Planet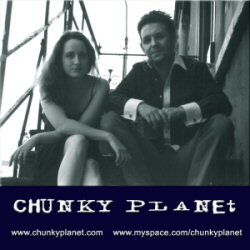 "Our eyes met across a smoky stage, 'cos smoking was still allowed in those days. We were in different bands, in a different town, in a different Country and well, the urge took us.. and we formed a band. Soon afterwards we moved from England to Cork, saying goodbye to the bands we had just split up, bye bye...
Chunky Planet have performed throughout Cork and Ireland having previously toured with Irish singer, Annette Buckley and chosen to share the line-up in Derry as part of the Tennant's Intro festival alongside well known Irish bands as Delorentos and Leya. At the time, their single Pensioners Watch TV earned Chunky Planet national airplay and rave reviews with an honouree mention in the edition of Ireland's Hot Press Magazine's Cork songs of all time.
A husband and wife collaboration, Chunky Planet's commentary style lyrics and alternative indie/folk sound is no recipe for nostalgic love songs. A 'tell it how you see it' approach, they switch from the sweet to the absurd and always maintaining a certain edge and rawness. Their music has made comparisons from Tom Waits to The Eels. They play a variety of instruments including acoustic guitar, bodhrán, irish harp, tin whistle and percussion, using traditional instruments for contemporary music making.
"A sub-species of alternative/indie folk that deals with real issues"
(HOTPRESS)
"Get onboard now, before they become too popular to be cool"
(CORK EVENING ECHO)
"Cork's most likely candidates for better things"
(IRISH TIMES)
After a five year gap since their first single, (HOTPress pick of the fortnight) 'Pensioners Watch TV, Chunky Planet are finally releasing their follow up, 'Walking in My Shoes' The E.P to be released on Friday 16th October 2009 with a launch show at the Crane Lane theatre in Cork on the same date.
The title track, 'Walking in my Shoes', inspired by the birth of their second child, originally written weeks before he was born also features guest musician, Annette Buckley on piano and harmony vocals. Other tracks on the EP include the upbeat 'Take me to the Stars', the blues feel of 'No Messages, No Complaints' and the more experimental song 'Suicide Bomber', featuring samples, sound effects and an edginess that might make you pause for thought..
Similar Artists
Tom Waits, Talking Heads, Robyn Hitchcock.