Chunky Planet

-

Pensioners Watch TV

CD single, featuring bonus tracks History Stops and Israel released August 2004 in Ireland. Chosen as Hot Press (Ireland's leading music magazine) pick of the fortnight, received glowing reviews in the Irish national press and extensive radio play.



Track Listing
Pensioners Watch TV

[3:50]

History Stops

[3:39]

Israel (Instrumental)

[2:47]
Chunky Planet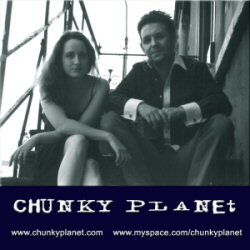 "Our eyes met across a smoky stage, 'cos smoking was still allowed in those days. We were in different bands, in a different town, in a different Country and well, the urge took us.. and we formed a band. Soon afterwards we moved from England to Cork, saying goodbye to the bands we had just split up, bye bye...
Chunky Planet have performed throughout Cork and Ireland having previously toured with Irish singer, Annette Buckley and chosen to share the line-up in Derry as part of the Tennant's Intro festival alongside well known Irish bands as Delorentos and Leya. At the time, their single Pensioners Watch TV earned Chunky Planet national airplay and rave reviews with an honouree mention in the edition of Ireland's Hot Press Magazine's Cork songs of all time.
A husband and wife…
Location
Cork - Ireland.
Similar Artists
Tom Waits, Talking Heads, Robyn Hitchcock.
Music Label
Related CDs
Categories
EAN: 5021272081028
MPN:CM001