Curfew CDs
Buy the complete collection on CD for £23.97 + delivery
Curfew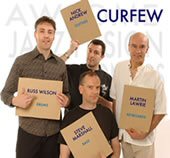 Curfew are one of the most exciting and original jazz fusion ensembles in Europe. With a mixture of jazz, funk, rock, world and even classical, their music "is like a box of chocolates" philosophy means that you never know quite what will happen next!
The current line-up of Martin Lawrie (keyboards), Steve Marshall (bass and flute), Russell Wilson (drums) and Nick Andrew (guitar) has been together for several years now, but the band's origins go back to the late '80's . Throughout the band has been commited to delivering a potent cocktail of exciting, original, melodic, energetic, rhythmic, progressive contemporary jazz.
REVIEWS:
'Making the much-travelled road of jazz fusion sound fresh and interesting is just about as difficult a job as there is in music, but Curfew have succeeded hands down' (Adrian Creek, Surrey Advertiser)
'Jazz-rock with a Weather Report sound' (Jack Massarik, Evening Standard)
'Should clean up on the London jazz scene' (Line Out magazine)
Location
London - England.
Similar Artists
Weather Report, Tribal Tech, Chick Corea, Bela Fleck and the Flecktones, Vital Information, Zawinul Syndicate, Jaco Pastorius, Yellowjackets, Jean Luc Ponty.