Descend CDs
Descend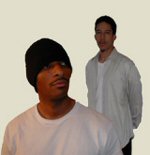 A spiritual group based out of Northern VA, Descend is dedicated to making spirit filled music that embraces the truths of spirituality and personal growth in a sound that can easily be described as a new and innovative form of Hip Hop. Descend was formed September 2, 1997 and comprise of SirHop & 3rd Level that currently form the nucleus of Descend.
Through perseverance and struggle each member has grown musically and personally. The Descend sound has developed to become a blending of different flavors of different members from very different backgrounds providing the bases for enriched and diverse music. Each member of Descend are self sustained musicians capable of producing, writing and recording their own music independently of each other.
From the time of no equipment when Descend's only means of recording were two fisher priced boom boxes (one of which had a broken speaker) and their only means of producing beats being by banging on books for percussion and making strange noises from their mouths for bass (nobody knew what a microphone was at this stage) to their first attempt to releasing an album "The Prerequisite" on cassette (this is another story for another time), to now, Descend has elevated beyond the standards of popular music of today. The richness of the Descend sound extends beyond the typical lust for cars, jewelry, violence and degrading of women that has been flaunted by many Artists of today. The Descend sound is new and innovative, integrating spiritual truths and relevant issues of today's society in a form of music that embraces growth, is entertaining, mentally and spiritually engaging, and very relevant to today's musical trends.
August 7th, 2005 marks the first major milestone in Descend history where all members of Descend have worked collectively, combining their musical talents and expertise to release a joint project on a professional scale under Descend Records. "The Prelude" is a dynamic masterpiece full of music diversity displaying the wide range of talents and tastes of the combined members of Descend. With many different elements of many music subgenres, this 17 track album is the 1st album in all of Descend history to be released and feature all the main members of Descend as well as capturing the many flavors of each member. A new album is currently in the works and more information will be made available some time in the distant future.
Location
Woodbridge, VA - USA.
Similar Artists
Cross Movement, Gritz.