Descend

-

The Prelude

For Hip Hop fans that don't need negativity or, for those looking for spiritual music that sounds OFFICIAL, RAW, where you don't have to turn the Music down and roll the windows up while driving and stuck in traffic or at a stop light...



Track Listing
Descend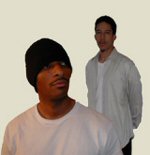 A spiritual group based out of Northern VA, Descend is dedicated to making spirit filled music that embraces the truths of spirituality and personal growth in a sound that can easily be described as a new and innovative form of Hip Hop. Descend was formed September 2, 1997 and comprise of SirHop & 3rd Level that currently form the nucleus of Descend.
Through perseverance and struggle each member has grown musically and personally. The Descend sound has developed to become a blending of different flavors of different members from very different backgrounds providing the bases for enriched and diverse music. Each member of Descend are self sustained musicians capable of producing, writing and recording their own music independently of each other.
From the time of no equipment when…
Location
Woodbridge, VA - USA.
Similar Artists
Cross Movement, Gritz.
Music Label
Related CDs
Categories
UPC: 837101072199
MPN:D001