Frank Rosiak CDs
Frank Rosiak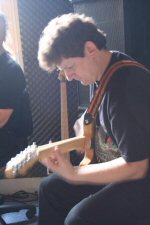 Experienced performer, composer and tutor - instruments are guitar, bass and sitar.
Studied classical guitar privately for 15 years with Simon James.
Devoted student for 14 years of Pandit Vijaykumar Jagtap who is a genuine master of sitar from Baroda, India.
Has performed extensively as a solo artist and as a member of various groups.
Currently plays bass in a 4-piece rock covers band performing classic rock songs from the 1970's up to the present.
For the last three years has been working as a solo artist composing instrumental music in a wide variety of genres.
The results of this is his first album – "The First Cuts" – a collection of 14 instrumentals, composed, performed and produced by the artist himself.
Location
Croydon, Surrey - England.