Gemiti CDs
Gemiti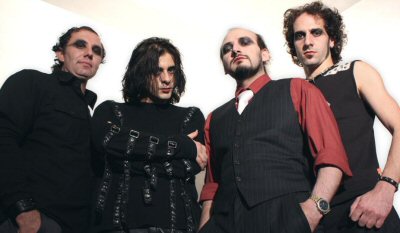 Gemiti were formed in 2003 by David (vocals) and Sergio (computer), who wanted, initially as a duo, to bring to life a musical project oriented towards electronic/industrial/dark sounds, and characterized by direct lyrics without censorships, screaming everithing that "merry pops" cannot say and contaminating the listener with the visceral emotions woven by their music.
Successively the lineup grown with the income of Saverio (guitars) and Enzo (drums) with David taking care of bass duties (alongside vocals). Everyone of the four players instills various infuences in Gemiti's music, from Rock to the destabilizing elements of Industrial, from Metal to New Wave.
Two years later, in 2005, having written a huge number of new songs, the band begins his own live activity touching various venues in Sicily and participating to many Italian rock competitions (such as Arezzo Wave, Sonica, Pop Rock Contest). In 2007 the band arranged and produced the songs for Italo Zeus' musical "Mimì che la vita racconta".
Between 2007 and 2008 they published two EPs, "Eros", and "in Trance: Live in Studio", both distributed in digital format under Creative Commons license. In 2008 a new version of "Mimì che la vita racconta" is represented, with the band playing the entire show live.2009 is dedicated to the recording of the first full lenght album "Follia" [Madness], released on November 23.
Two songs from the album, "Modus Operandi" and "Fredda", are included in the OST for the movie "Ogni giorno come se fosse l'ultimo", directed by Italo Zeus.
Location
Capo d' Orlando (ME) - Italy.
Similar Artists
Marilyn Manson, Rammstein, Nine Inch Nails, Depeche Mode.