Gilli Moon CDs
Buy the complete collection on CD for £32.96 + delivery
Gilli Moon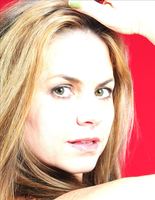 gilli moon is a Hollywood based Australian artist, who delivers conscious music, art and a brave sense of self-expression in her energetic, sensual and expressive performances and recordings. gilli (pronounced as with a "J") is an illustrious poly-media artist, with multifaceted albums and dynamic live shows that have touched music lovers worldwide garnering high praise from the most jaded of critics. She is the quintessential renaissance woman, with a ceaseless contribution to the creative and artist communities at large. She creates music that is fresh, rebellious, passionate and unique. ITunes has been unable to classify her. She stands alone. Her restless creativity and rebellious nature continually urge the artist to push the envelope when writing a song, recording in the studio, on stage, painting a canvas, or with whatever she touches.
Born in Milano Italy, and raised in Australia, gilli moon was brought up in a pioneering lifestyle on an isolated mountain property on the edge of wilderness.
Now living in Los Angeles, CA for the last 10 years, Gilli has been one of Australia's most influential and iconic figures forging an independent path before anyone knew what "indie" was. Through her own record label, Warrior Girl Music, gilli took on the music industry on her own terms and successfully produced and released 6 studio music albums, to critical acclaim, launched several artists' careers, placed an abundance of songs in film, TV and with other artists, and has performed around the world many times over. She has traversed the "wilderness" of the Indie world, where only the brave dare to go, and has conquered with unparalleled drive.
Her albums include "Girl In The Moon" (1998), "temperamental angel" (2001), "Woman" (2003), "extraOrdinary life" (2005) and "Skillz" (2009), the latter empowering at-risk youth (released with hip hop artist J.Walker). Just out of the studio with her brand new (6th) album, "the stillness", (2010), gilli plans to focus on performing, touring and marketing her new record.
Gilli has received numerous press for her courage, power and dynamic energy as an artist and inspiration for other artists, and has worked with other highly respected prominent artists including Simple Minds, Placido Domingo and Eric Idle (Monty Python). She was interviewed in Newsweek Magazine as a pioneer in the independent music business; and has been featured alongside Aimee Mann for her mutual success in the indie music scene in Music Connection Magazine.
gilli moon's songwriting has proved strong for her career, being an international award winner: Song of the Year by the Benelux International Song & Culture Festival; Best Popular Song by the Johnny Dennis Light Music Awards (Australian Guild of Screen Composers), Best Solo Artist (twice) at L.A's Rock City Music Awards, and, honored as "Outstanding Contribution as an Artist" by Artist For A Better World organization. Her songs have been featured in independent films and network U.S television programs worldwide, including on Nickelodeon, the WB, Disney and CBS.
Also, gilli has been rising up the ranks as one of Los Angeles sought after female music producers. She also created the compilation series Females On Fire and the Art Of Men, which provide a platform for independent artists to be showcased to the world, and celebrate over 150 female and male artists from around the world. A perpetual philanthropist, Gilli has created opportunities and avenues for artists worldwide through her 16,000 member strong non-profit songwriters organization, Songsalive!, plus has written two books about artistic entrepreneurial excellence, called "I AM A Professional Artist" and soon, "Just Get Out There" which are motivational handbooks for up and coming artists. Gilli is never separated from her "art". She has dedicated her entire life to the pursuit of excellence as an artist, both in music, visual arts (she's also a painter and often paints onstage with her band) and multimedia. She explores every aspect of the arts, as creator, writer, performer, and making it all come to life, as producer. Her shows are highly energetic and powerful and she combines music, art, dance and little theatre into her show. gilli is truly a multi-dimensional experience. Her performance is full of action, her voice a tapestry of emotion and sensuality and her music an expression of pure raw emotion.
gilli moon is unique, evocative and energetic and has a perpetual fire in her belly to purge her life stories and quest for truth through her music and art. Where 2010 takes her, can only be exciting and delicious, as she unravels her new album, the stillness. gilli leaps empty handed into the void and enjoys the journey along the way. Come take the ride with gilli moon.
Location
Los Angeles - USA.
Similar Artists
Alanis Morrisette, Madonna, Sheryl Crow, Sade, David Bowie, Tori Amos.