Kachumbari Seven CDs
Kachumbari Seven
"A band that is eclectic, brilliant and audible proof of the creative energy of diversity" - The East African, April 2009
The music: a colorful mixture of acoustic sounds, moods and atmospheres, mixing improvisation with strict dance rhythms, folk melodies and ragas.
The people: our musical backgrounds represent North Indian classical and folk traditions, the European classical tradition, the English folk tradition, and African music tradition from parts of Kenya and beyond.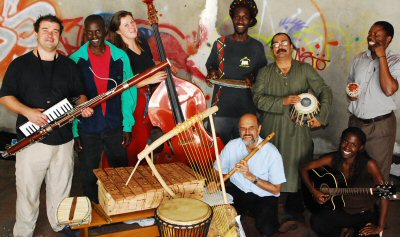 Kachumbari Seven is a new musical group for Nairobi which unites our mix of African, Asian and European cultures. It is a musical celebration of people from different communities working together and the group are on a mission to create new and original artistic performances that cut across cultural barriers. K7 (as it is known by the band members) started up in 2006 when a number of musicians were brought together by Awaaz Magazine for the Samosa Festival. The group began building up a profile in Kenya, and were invited to perform at the Goethe Institute's "Encounters" concert series. This attracted interest from the BBC World Service, and following an interview on the Network Africa program in June 2008, Kachumbari Seven began recording an album of the repertoire they had developed during the first two years. Without sponsorship or any type of funding to pay for studio time, most of the album was recorded instrument-by-instrument in a simple home studio rigged up in a passageway.
Mozart on Moi Avenue, which is the group's debut album, launched on 27th March 2009 at the Alliance Francaise Auditorium in Nairobi. It is named after its title track, which contains references to the music of Mozart along with colorful sounds of African percussion, Indian flute and tabla, and the Kissii community instrument obokano.
The artwork on the album is designed to be just as colorful as the music. Each piece of music that the band has developed includes contributions from Indian culture, Kenyan culture and European culture, so it was decided that the album cover should include some type of European musical icon as well as the Afro-Asian flavour of a Nairobi street. In a tribute to the photograph on The Beatles' Abbey Road album released 40 years ago, Kachumbari Seven decided to create a symbolic album photo for the city of Nairobi. Members of K7 traveled to Moi Avenue at 7am one balmy Sunday morning in January to take part in a bizarre photoshoot organized by photographer Alex Kamweru. Curious onlookers going about their normal business stopped and stared as the band carried their instruments repeatedly across the street with the photographer up on a ladder, and a matatu taxi specially hired for the occasion bearing the number 7 and the fictitious destination "Kachumbari". One of the band members was dressed up as Mozart.
The name Kachumbari Seven comes from two sources. Kachumbari is a description of the music, because when you create a salad from different ingredients, they taste good together but you can still taste the original flavors of each separate ingredients, unlike a cake where you don't taste flour, eggs, fat and sugar distinctly (kachumbari is a typical East African salad made from finely chopped tomatoes, onions, fresh coriander and chillies - try it!) The number Seven was chosen because for many people it is a magical number with many different associations; the seven colors of the rainbow, seven notes of the Indian and European classical music scales, the seven wonders of the world, seven continents, the seven days of the week, and so on.
Band Members:
Jim Pywell: Melodica, bassoon, penny whistle, rice cream shaker, Luo drums, brush on beer bottle, vocals, musical direction / arrangement
Kirit Pattni: Bamboo flutes, claves, Indian finger cymbals, vocals
Raymond Mackenzie: Kiringongo, chivoti, vocals
Prasad Velankar: Tabla, gourd drum, padhant vocals
Obuya Owino: Djembe, congas, percussion, chat masala shaker, vocals
Sally Ann Clark: Double bass, electric upright bass, cello, vocals
Dominic Ogari: Obokano, echuma, bead shaker, vocals
Corrine Towett: Guitar, viola; lead vocals on track 9
Wandiri Karimi: Guitar on tracks 1, 5 and 6; additional guitar on track 9
Location
Nairobi, Kenya - Africa.
Similar Artists
Nitin Sawhney, Bassekou Kouyate, Talvin Singh.