Kachumbari Seven

-

Mozart On Moi Avenue

Africa, India and Europe meet in this colourful new ensemble from Kenya.



Track Listing
Kachumbari Seven
"A band that is eclectic, brilliant and audible proof of the creative energy of diversity" - The East African, April 2009
The music: a colorful mixture of acoustic sounds, moods and atmospheres, mixing improvisation with strict dance rhythms, folk melodies and ragas.
The people: our musical backgrounds represent North Indian classical and folk traditions, the European classical tradition, the English folk tradition, and African music tradition from parts of Kenya and beyond.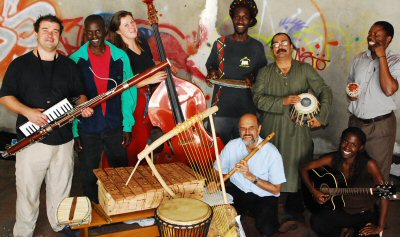 Kachumbari Seven is a new musical group for Nairobi which unites our mix of African, Asian and European cultures. It is a musical celebration of people from different communities working together and the group are on a mission to create new and original artistic performances that cut across cultural…
Read More about Kachumbari Seven
Location
Nairobi, Kenya - Africa.
Similar Artists
Nitin Sawhney, Bassekou Kouyate, Talvin Singh.
Related CDs
Categories
UPC: 884502073140
MPN:K7CD002/1