Lost Nomad CDs
Lost Nomad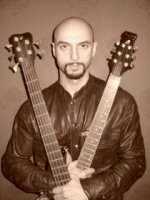 The uniqueness of Lost Nomad music lies in its versatility; no two songs sound similar style-wise yet manage to remain groovy and catchy without sounding overcomplicated. Each song is usually a blend of several styles which makes the music difficult to pigeonhole.
My debut album was recorded at home over the last couple of years or so and is now available on numerous online stores and receiving air play on several indie stations and podcasts; half the songs are fairly new while the others were written over the years but needed a new feel. Most of the second album was also written during this intense creative period however my immediate priority is to promote my debut album through networking and live solo performances while I get an electric backing band together and expand my knowledge about the music business. I am also aiming to get songs placed in films, gaming TV and write songs for other artists. Next a bit of history for you.
Lost Nomad consists currently of just me, Diego Guzman, songwriter musician based in Manchester, UK. I was born to Spanish parents in small multicultural Luxembourg, speaking four languages on a daily basis, watching over thirty European TV channels and hanging out with my friends most of whom were of Mediterranean origins like me.
Music-wise, I spent most of my teens listening to artists such as Duran Duran, Prince, Michael Jackson, and most of the 80's mainstream pop rock scene but I was also influenced to a degree by popular music from neighbouring countries like France, Belgium and Germany as well as Italy and Spain. I enjoyed an overall happy childhood until age eleven when my parents separated and my mother moved back to Spain; this experience triggered a phase of isolation and introspection during which music would take a more and more central role in my life as a means to fill that void.
Another turning point in my life came around 1990 when I saw the 'Sweet Child O' Mine' video by Guns N' Roses which radically changed my musical direction and motivated me to buy my first instrument. The original plan was to become a drummer but on the day I was meant to pick up the drum kit I had reserved at the local store, I mysteriously (conveniently?) changed my mind at the very last minute and bought a bass guitar from the shop next door instead. The following years were spent practicing and playing along to records from Guns N' Roses, Metallica, Ozzy, Slayer, Faith No More, Skid Row, Red Hot Chili Peppers amongst many others as well as music on TV and radio. Music had become my main companion and contact with friends less and less frequent; mainly due to the fact that unfortunately none of them played an instrument.
The music scene back home being so small and life in general so boring, I decided to move to Paris where I got into grunge and death metal bands like Pearl Jam, Alice In Chains, Napalm Death, Death whilst studying translations at university and reading books on philosophy and spirituality. I had a go at putting a few bands together and eventually filled a bassist position in an alternative death/thrash/rock band called 'Witches' fronted by a growling front woman that were signed to a small independent label 'Boucherie Productions' and with whom I gigged extensively in France.
Disappointed with the direction the band was taking with the second album and the French music scene in general, I moved to Manchester a few years later to look for a new start, experience the vibrant music scene and finish my university degree. There I joined several rock/alternative bands ('Mirrorball', 'Brotherhood of Slam') amongst others and played gigs all over the the UK; all with moderate success only. This was mainly due to none of us being dedicated or business minded enough to take the band to a higher level; not to mention the almost inevitable personality clashes or jealousy between band members. All these events eventually convinced me to become an independent solo artist in 2006, improve my singing and guitar skills and release my first album. I have now put an electric solo live set together that I am playing at venues in the Manchester city centre.
I hope the intense, profound and introspective qualities of the songs will help the listener's mind remain in the here and now and become more aware of its silent nature free from time, thoughts and illusions, a state of 'oneness' symbolized by the curled armadillo lizard eating its own tail.
Location
Manchester - England.
Similar Artists
Blend of Smashing Pumpkins, Faith No More, Pearl Jam amongst many others.