Lost Nomad

-

Lost Nomad

New breed of alternative/indie rock with elements of funk, jazz, metal, reggae and punk, characterized by sultry vocals, intense melodies and liberating lyrics.



Track Listing
Lost Nomad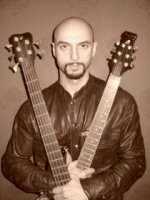 The uniqueness of Lost Nomad music lies in its versatility; no two songs sound similar style-wise yet manage to remain groovy and catchy without sounding overcomplicated. Each song is usually a blend of several styles which makes the music difficult to pigeonhole.
My debut album was recorded at home over the last couple of years or so and is now available on numerous online stores and receiving air play on several indie stations and podcasts; half the songs are fairly new while the others were written over the years but needed a new feel. Most of the second album was also written during this intense creative period however my immediate priority is to promote my debut album through networking and live solo performances while I get an electric backing band together and expand my knowledge…
Location
Manchester - England.
Similar Artists
Blend of Smashing Pumpkins, Faith No More, Pearl Jam amongst many others.
Related CDs
Categories
UPC: 634479788239