Madison Mckoy CDs
Madison Mckoy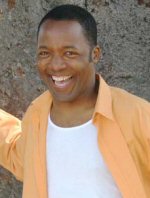 Armed with cool melodies, eclectic lyrics and an infectious smile, American-Australian Madison McKoy is ready to take on the world. Easily crossing the RnB, Pop, and Soul genre, Madison's music reflects immediate familiarity reminiscent of Lionel Richie, Luther Vandross, and a touch of Seal in an adult contemporary style.
Madison's current project is his new self-financed independent CD '10th Child' which is set for release on 19 November 2005, beginning with his launch at Sydney's renowned "Metro Theatre".
Don't think that this North Carolina-born fella has been sitting on his laurels since migrating to Sydney in 1994 though. Madison's official title, "actor-singer-songwriter", sums him up to a tee. Before embarking upon his latest recording journey, Madison was cast in the Australian premiere of the stage musical, Miss Saigon, the recent film remake of South Pacific with Glenn Close, and he played the interviewer in the tele-movie Looking for Natalie Wood. He's also been cast in notable television ads for the USA, UK, and Australia
Madison is no stranger to being part of covers bands but is much more comfortable as a solo artist performing his own original material – in true entertainer style. This prompted him to record his first independent EP called 'Deep Within', in 1999. Being a part of the live music and theatre scenes, Madison is often presented with opportunities to perform on various Australian television shows and at venues. He's belted out tunes on Kerri-Anne, In Melbourne Tonight, and Carols in the Domain. In Sydney, he's put on shows at The Basement, Golden Sheaf, and Bar Broadway. He even solo performed the Australian National Anthem at his own citizenship ceremony. His live shows are a heady mix of sweat and energy and no one leaves Madison's shows with the same dry clothes in which they arrived.
The idea behind the title of Madison's forthcoming release, '10th Child' is simple. He is the last born of ten children. However, the music on this hardly has anything to do with kids. Even though the first track starts with the slapping of a newborn baby's bottom, it quickly traverses time to the adult Madison. "As I'm quite a private person normally, I wanted this album to reflect my intimate side but be "clean" enough for my Southern-based family to listen to without cringing in embarrassment", laughs Madison. Most of the songs are given a tongue-in-cheek type presentation, allowing a light spin on some not-so-light subjects.
Madison McKoy will enthral you with '10th Child', his new album, which demonstrates the progression of his exceptional song writing ability, powerful vocals and performance finesse.
Location
Sydney, NSW - Australia.
Similar Artists
Seal, Luther Vandross, Lionel Richie, Janet Jackson, Will Downing, Phil Collins.