Matt Johnson CDs
Matt Johnson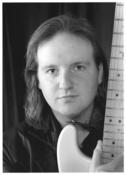 Playing since the age of 11, Matt was captivated by the guitar long before he would ever own one. Although primarily self-taught, he had great instructors early on who recognized his burning ambition and pointed him in the right direction by exposing him to many different styles that would eventually make him the versatile player he is today.
Listening and practicing to everything from Racer X,Stevie Ray Vaughan, to Steely Dan and Frank Zappa recordings all through his teen years landed him gigs with many bands in his local scene; Weather it was country, blues, heavy metal or top 40 Matt became the "first-call" guitarist for bands local and out of town.
In 2003 Matt released his first all instrumental CD entitled Line Of Sight, which highlights his skills not only as a lead guitarist but as a composer able to write catchy melodic phrases as well.
Location
Menominee, Michigan - USA.
Similar Artists
Paul Gilbert, Steve Vai, Andy Timmons, Eric Johnson.