Mirror Mirror CDs
Mirror Mirror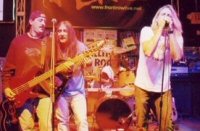 The Story of Mirror Mirror began in June 1998. The original members included Scotty Beach, (Guitar), Sean Sandy (Drums), Michael Richards (Bass), and Tracy Allen (Vocals, and Acoustic). We were a band without a name for several weeks. Throwing around names such as Rock Candy, Aftershock, etc etc. Until Scotty came up with Mirror Mirror from one of his favorite Star Trek episodes, so the name stuck.
In no time at all we were building a strong following with our 80's style and high energy shows.
In the fall of 1999, Mirror Mirror went to work on our first CD titled "Better Ways". The disc seemed to be a hit, gaining national interest with record companies, such as Jet Speed Records (California) and Jay Byrd records (New York); we thought we were "Rock Stars". After having an attorney read the fine print we realized the contracts were one sided. The members decided against it. So we just rocked in nightclubs every weekend for months straight from Cincinnati, Blanchester, Charleston, Maryland, and everywhere in between. We were invited to play at the Bear Fest for three years straight, and opened up for the one hit wonder band Collapses of North Carolina.

In 2001 we finished up our second CD, titled "Feel This". It was also a great local success, with songs like "Weekend Girlfriend", "Come Get Some", and "Feel", gaining air time on 103.1 the bear, and 106.1 the most popular rock stations in the Mid Ohio Valley." 2003 started out a little rocky, five years of playing nightclubs every weekend, late nights and hangovers, finally took their toll on Scotty Beach. Scotty decided to call it quits, with Sean Sandy soon to follow later that year. Then came the arrival of "Rippin Bobby Britton" Yeah the name says it all! Next we had the stick-twirling rocker "Dave Hardman" who came in and never missed a beat. And in 2005 we added "Tim Querrey" the one-man band. (Keyboard, Guitar, Vocalist). He has breathed new life into Mirror Mirror.
We released our third CD "Kick It" in July of 2006. We feel that the new CD has a lot of potential to raise a few eyebrows.
So that is where we are now. The rest of the story is yet to be written, but if we never reach the stardom or fame we are looking for I think I can say we will go down as one of the most well known and admired bands to ever show its rock-n-roll flare on the stage in this area.
We have made a lot of good friends and met a lot of great people along the way. Maybe that is what you call BIG TIME. ("Keep Rockin")
Tracy Allen
Dave Hardman: Drums & Backing Vocals
Tim Querrey: Keys, Guitar & Backing Vocals
Bob Britton: Lead Guitar & Backing Vocals
Mike Richards: Bass & Backing Vocals
Tracy Allen: Lead Vocals & Acoustic Guitar
Location
Parkersburg, WV - USA.
Similar Artists
Bon Jovi.